The real power of music lies in the connections that it can forge between people
Music therapists use genuine musical connections to form strong therapeutic relationships. They use these connections to support growth and promote change.
The social systems around a child, such as school or pre-school, have a key role to play in their development. Therefore we believe that enhancing connections with peers, educators, parents and others can make a significant difference. That's why the Little Musical Caravan travels to your child's school, home or other community setting.
The true beauty of music is that it connects people. It carries a message, and we, the musicians, are the messengers.

Roy Ayers
What is Music Therapy?
Music therapy can be used to promote your child's personal growth and development in a fun, motivating way. Music therapists use music as a tool. It is tailored to meet individual needs and can offer support in a number of key areas:
Cognitive development
Motor skills development
Emotional regulation and expression
Social skills development
Spiritual wellbeing
In New Zealand, Registered Music Therapists are trained health professionals with a Master of Music Therapy degree. They participate in ongoing Professional Development, clinical supervision and hold a practising certificate issued by Music Therapy New Zealand. You can find out more about Music Therapy in New Zealand by visiting the Music Therapy New Zealand website.
There are many different music therapy approaches. At the Little Musical Caravan, we are strongly child-centred. Whilst we work closely with support teams, we use a strengths-based approach. This means that we build on existing strengths and interests. We are also passionate about inclusion. We believe that we should value the contributions of all learners and value diverse ways of being. We work to build connections between the children we work with and the wider community. We also think about how surrounding social systems and environments might be developed or adapted to improve outcomes for children.
About the Little Musical Caravan
The concept of a mobile music studio began in 2019, fuelled by a keen interest in providing inclusive music therapy within mainstream schools. There were barriers to this, such as lack of a suitable space in schools. Where a space was available it was often a shared space with furniture that had to be rearranged or where there were likely to be interruptions. Instruments were limited by what could be carried from car to classroom. Emily found that her purpose and function within schools was also not immediately obvious. A traveling and very visible music therapy space was a good solution.
At the beginning of 2020, Emily began the journey to buy and renovate a retro 1960 caravan. You can follow the renovation journey on our Facebook page @littlemusicalcaravan.
The resulting space is quite unique. The caravan itself is sound and heat insulated, with attention given to the acoustic properties inside. The colours inside and out have been chosen from an Autism-friendly palette, the LED lighting can be adjusted for colour and brightness and the interior design is simple to minimise sensory input. The caravan carries a wide range of instruments for children to explore, as well as sensory friendly items to stimulate and calm.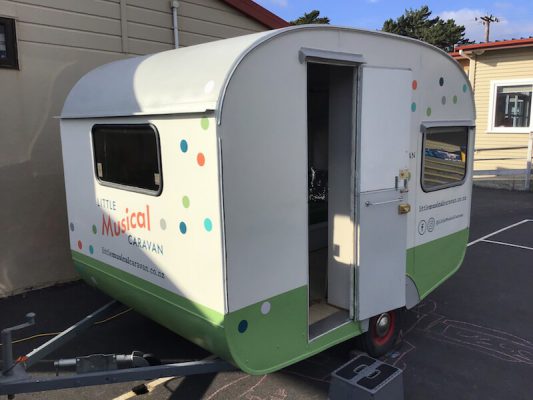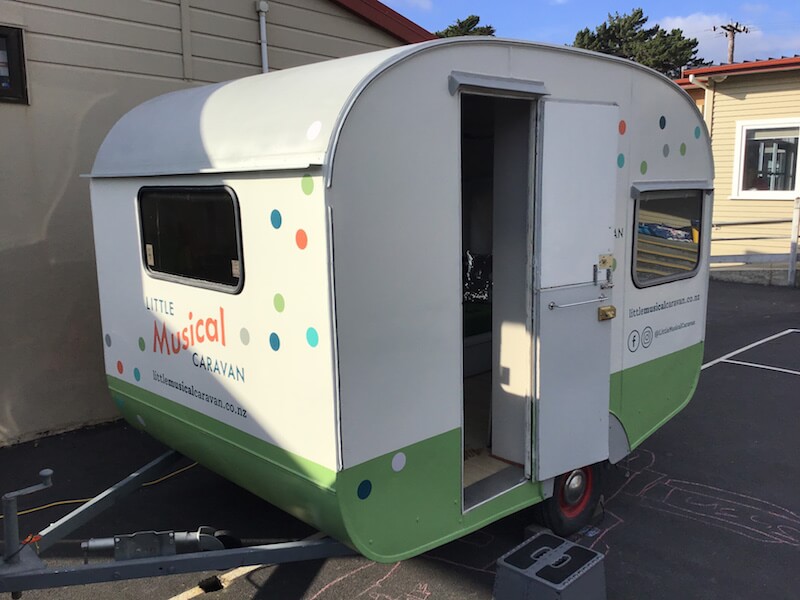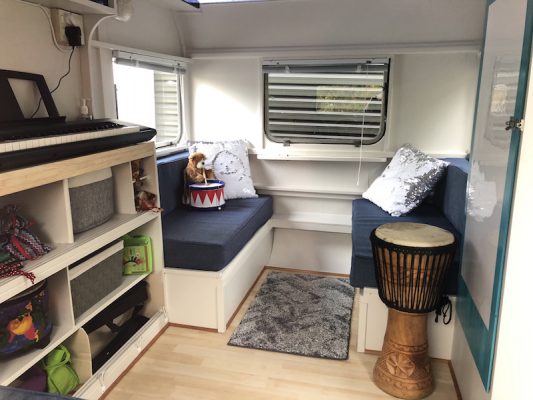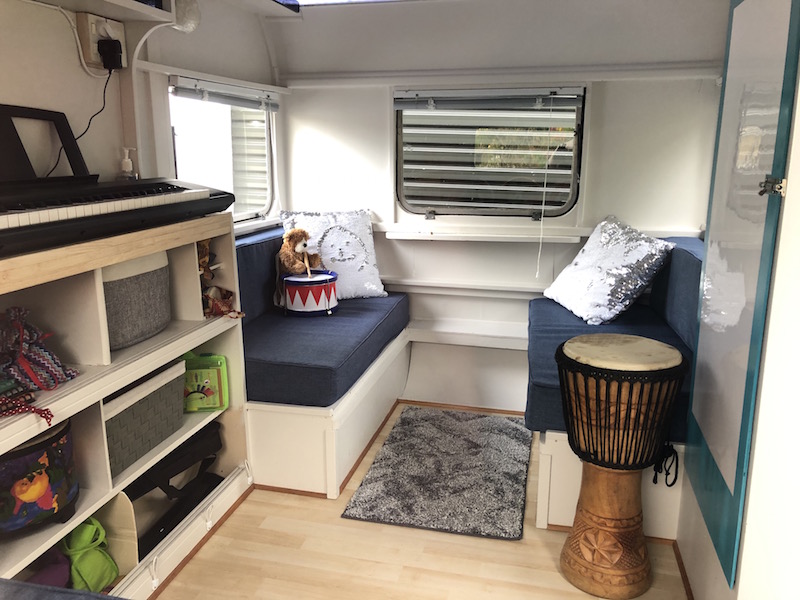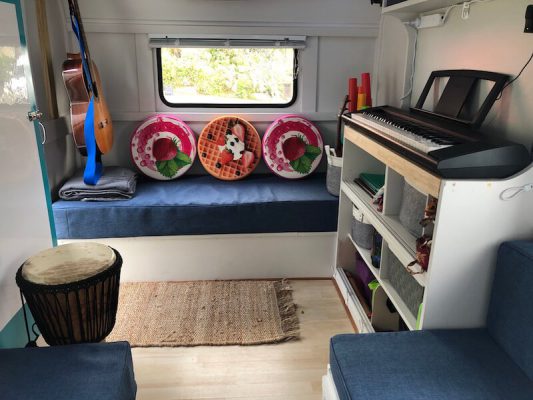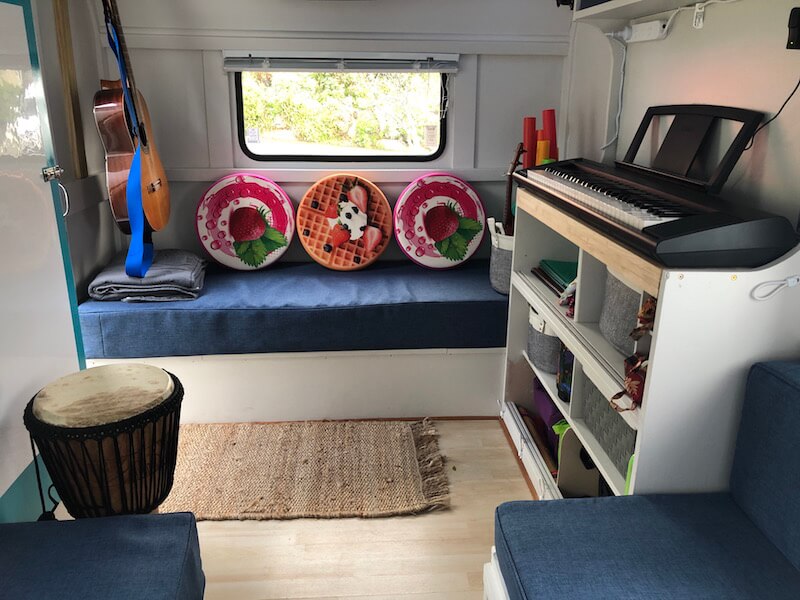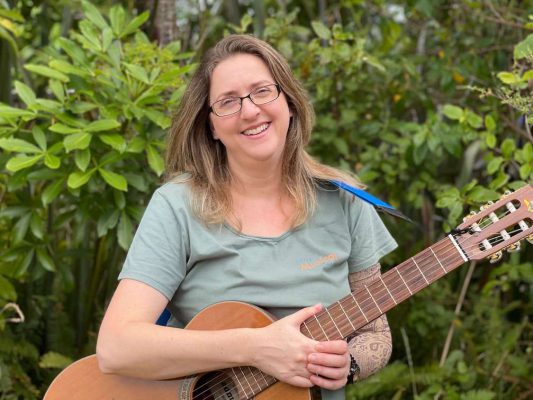 Emily Langlois Hunt
Director and Registered Music Therapist
MMusTh, CT Counselling (CPCAB), CT music teaching (ABRSM), BA (Theology), PhD (Theology)
Language consultant for Approaches: An Interdisciplinary Journal of Music Therapy. Current research interests: 
I worked as an itinerant piano, voice and harp teacher for over 15 years, as well as teaching Kodály music education classes to children aged 0-7. Several paths led me to explore music therapy and I retrained as a music therapist through the New Zealand School of Music at Victoria University, Wellington. I specialised in working with children in mainstream primary school settings and graduated in 2019.
My orientation as a therapist has been heavily influenced by teaching children with disabilities or additional needs and parenting my Neurodivergent children. My own experience as a Neurodivergent person also gives me a unique perspective. I am currently exploring the possibilities of post-ableist music therapy and ways in which my own 'disabilities' can enhance my practice.
George Parker-Brien
Graduating music therapist
BMus (Composition)
Music therapist at a residential facility for people with neurodisabilities.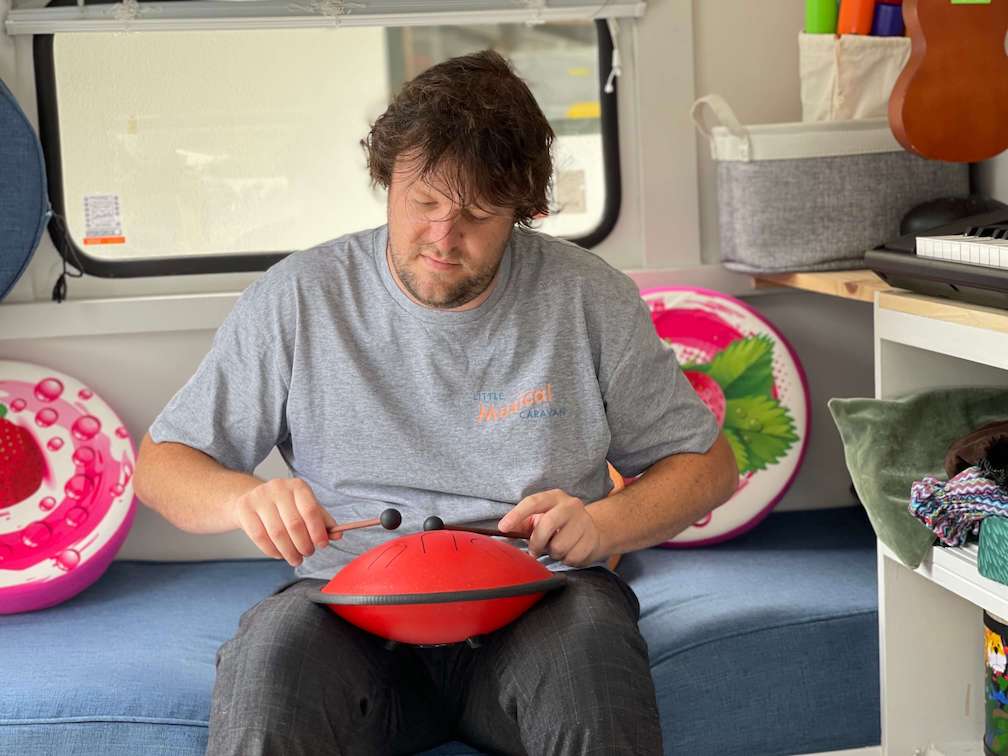 I have worked as a composer and independent artist for many years. Music has been a consoling and liberating force in my life for as long as I can remember. I perform by myself and in bands. I produce and record lots of music for myself and others.
I completed my Master of Music Therapy through the New Zealand School of Music at Victoria University, Wellington in early 2022 and am currently transitioning to work as a music therapist. During my studies I worked on placement with children and adults with disabilities as well as on a children's ward. My approach values diversity, playfulness and creative empowerment that is oriented towards a person's authentic expression.
Interested in finding out more about how the Little Musical Caravan could support your child?
Contact us for a free, no obligation consultation
Feedback from clients and their parents
"Emily is very professional"
Emily is very professional and incorporates [my son's] school and speech therapy goals effortlessly into her sessions. She also attends school IEPs and always has helpful hints!
"Amazing job!"
You have done an amazing job with [my child]. I must admit I was a little sceptical at first about music therapy, but I would recommend it to anyone [and] in particular yourself.